---
The link between play and creativity is almost self-evident. It becomes rather visible in pieces of work where playful art and technological innovation flirt one another.
In 1957, artist-designer couple Ray and Charles Eames creates a solar-powered kinetic sculpture. It turns out to be a colorful embodiment of their view that 'toys and games are the prelude to serious ideas. Because what they call 'The Solar Do-Nothing Machine' marks one of the first uses of solar power to produce electricity.
The 1995 mini film by Eames Demetrios not only shows this weird 'machine' but also reminds us once again the potentials of playful creation. Such as the little games it makes our imagination play as we watch it.
(via Aeon)
---
Singing Street (1951) is a heart-warming short film made by teachers at Norton Park School, Edinburgh. It is a collection of children's street games filmed in the streets of Edinburgh accompanied by traditional children's songs. Director James Ritchie tells in this interview excerpt how the idea of making the film came into being.
Publicity leaflet: Their progress is followed along an ideal thoroughfare. In songs where ancient ritual, myth, the mountain and the rose, mingle with taxis, telephones and powder-puffs. Old rhymes rarely dying - something new always appearing. No-one asks "What does this mean?" The world's accepted, poetry's kept alive. Favourite topic, love and death. Not meant for education or entertainment but belonging to the art of play. Shot in six Easter days of boisterous weather, the cast, mostly girls, numbering sixty.
Follow this link to watch full film.
---
The pawns are discontent. The game carries on, all the same. Later on those excluded from the board sweep the priviliged ones from the board. The question is, is it possible to play a 'new' game on the same board, sticking to the roles as they used to be?
These are the very initial questions brought into play by "The Chess Game" – a short film by sociologist Erik Olin Wright, dated 1968. Having inspired by "concerns for radical, egalitarian social change" that was part of the 60's political movements, Wright suggests aiming for the chess board for real change.
In this interview with Mark Kirby he talks, among many other things, about the film.
---
University of California Professors Ronald Rael and Virginia San Fratello placed seesaws on the border wall at Juarez, Mexico and El Paso, Texas. "The seesaw demonstrates" according to its creators, "how those immediate relationships between people can create an environment where happiness and play are also important aspects of life on the border and that our relationships with our neighbors can extend past political relationships." It was kids and adults alike on both sides of the border who enjoyed surpassing the wall by playing with their counterparts.
The installation, developed originally as part of a project dated 2009, had to be brought down on the same day it went up, thanks (!) to Customs and Border Protection officials. An official has reportedly said: "The group removed the boards and left the area without incident after it was established that there was no advance coordination. Agents ensured that no people/goods were crossed during the encounter."
Nonetheless, there occurred a playful encounter, which means something must have crossed the border. Sorry :)
---
"A fourth-generation toy maker, Masaaki Hiroi, crafts intricate mechanical toys, no batteries required. At 80 years old, Hiroi only wishes he could live longer." [via AJ+]
---
"Remove the car please, or nothing will remain!"
Place: Amsterdam, Pijp; year: 1972.
The increasing population and the number of cars in the city center are making the neighborhood less and less liveable, especially for children. So they hit the streets to make those very streets car-free and create more space to play.
These images are from a documentary called Namens de Kinderen van de Pijp (In the Name of Children of Pijp), by Roeland Kerbosch. The video is a shorter version of the film edited by Bicycle Dutch.
Guess what happened after the struggle of the 'angry mob' of kids fighting for their right to play? Carriageways were narrowed, the streets were made one-way, and several play streets were built in the neighborhood.
"That's how you campaign!" says the little activist in the documentary. "Show what's wrong and how it can be better. And then the city will follow."
---
"Little Azad is not allowed to go out. Trapped in. But the house is too small for his imagination and he finds his own way to escape the trap" Playful imagination clears the path to freedom. 
Yakup Tekintangaç's short film Azad (2015), which won many national and international awards, is the story of a little boy playing against the strict facts of life.
---
With this short video Observatoire des Inégalités draws attention to discrimination and social inequalities in social life, some of which are almost invisible to many people. The devious manipulation of rules, however, is still too obvious to players who still retain their sense of fair play. It is quite interesting though, that the kids keep playing no matter how unfair the rules get, or for that matter, how inherently wrong is it to play for monopolization.
Life is like a game – fair enough. But it is highly questionable whether it is a game as such. As the saying goes, "wrong life cannot be lived rightly". Then the question is, dear ludophiles, can a wrong game be played rightly?
---
What was it that Deleuze said about dreams? "If you are trapped in the dream of the Other, you're fucked". Let's adapt it to games: if you are trapped in the game of the other, you're fucked. And if this a game playing with the lives of people, then we all are.
---
Gamification is the application of game-design elements and game principles in non-game contexts. Gamification commonly employs game design elements to improve user engagement, organizational productivity, employee recruitment and evaluation, usefulness of systems, traffic violations, voter apathy, and more. [Wikipedia]
The video is about the curious 'game' called Sesame Credit, which is claimed to be employed by the the Chinese state to score people how 'good citizens' they are. The story is not (yet) completely real though. Because Sesame Credit apparently is not a state-made game for the citizens but one developed by a financial corporation to score its clients. There is still some difference between the two. It may, however, not be a major difference as such and even worse, it can disappear sooner than we suppose.
Let us be aware: games are part of our commons. Unless we want to wake up to a world of dystopian games where we have no say, it is upon us to claim games and play – for the sake of playing.
---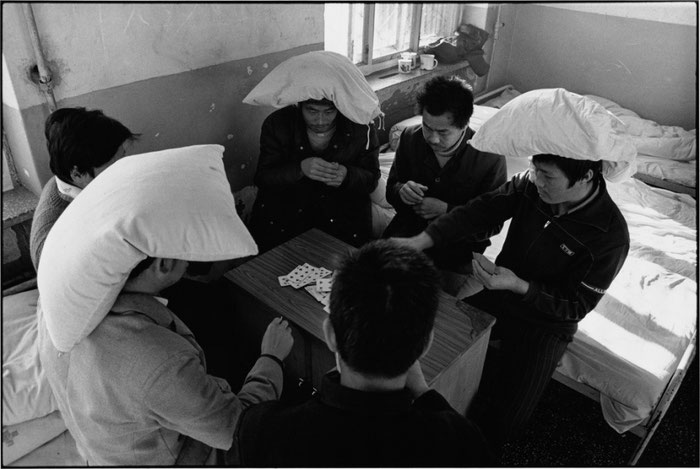 CHINA. Heilongjiang. 1989.
Mental Hospital Heilongjiang. Sufferers are playing poker. The loser must accept the penalty of having a pillow placed atop his head.
---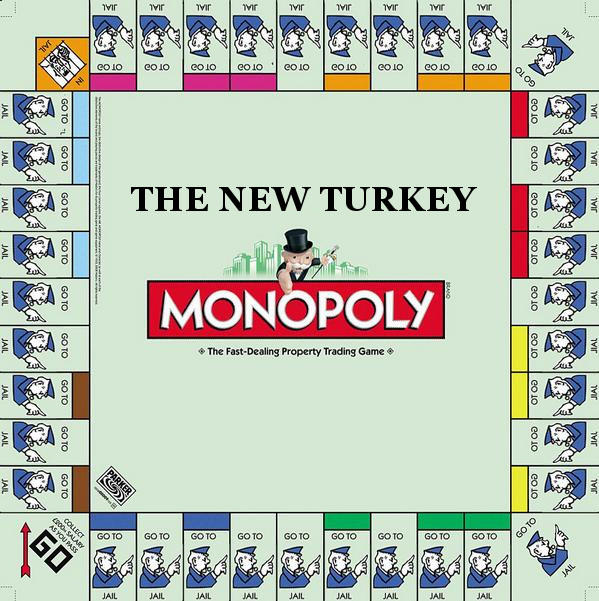 ---
Some possibilities concerning acting and talking are already missing and some others are sometimes missed greatly. They are dismissed by rules and regulations, prohibitions and silences. They are wrapped up with fear, oblivion, contempt and the saintly -- to give birth to stony taboos. A good game is capable of touching these stones, if not making them crack. It, at least, checks them out, pokes them. In this way, it evokes diverse affects for the player. A bitter smile, for instance.
Now we invite you to join a game of taboo, customized to those in Turkey by  Aylin Kuryel and Emrah Irzık, with a special deck of cards which keeps getting even thicker with the passing years. Ladies and Gentlemen, please welcome the best film made on this game in the history of cinema from Turkey: Taboo.
---
FC Heidenheim players show what real dedication and team spirit can do when it comes to turn petit play into a great one.
---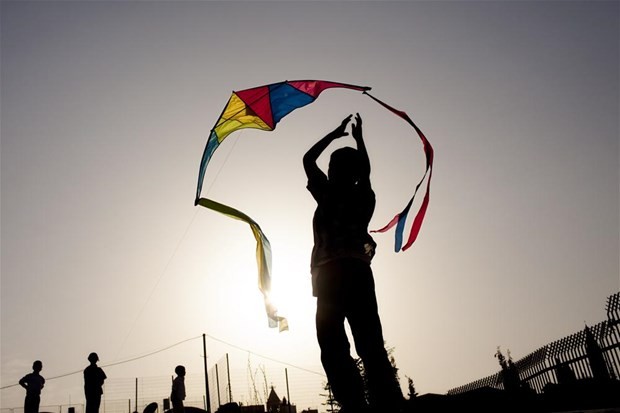 "Thousands of children in the Gaza Strip sought to break the world record for kite flying in a rare moment of respite from the war-battered enclave's daily life" says Telegraph where you can find the photo gallery for the event.
And below is an excerpt from the documentary Flying Paper which tells the story of Palestinian children in Gaza engaged in the fascinating culture of kite making and flying.
---
No matter their cultural background, no matter their economic situation, kids will always find imaginative ways to have fun. Their wild imaginations and magical childhood moments, when captured on camera by talented photographers, can make for truly wonderful photos. These 33 images we collected will prove that childhood can be wonderful no matter where you go.
Many in the Western world fear that technology is making today's children lose touch with nature and with their own creativity, and while there are arguments to be made for the intellectual stimulation that apps and programs for children can bring, there's also something to be said for simply playing with a stick in the mud or chasing dandelion seeds though an open meadow.
For better or worse, the children in these photos seem entirely content making their own fun. For us adults, it's important not to let our world-weary and jaded experience stifle our childish hopefulness and imagination!
See more at trueactivist.com
---
Puzzle designer Scott Kim talks about what puzzles are, the ways to design them. He also presents some of his past and current works. I'd say the very first one he designed looks much better than what he's doing today though. See and decide for yourself!
If you find this isteresting, you can also check his personal website and this MathMunch post where you'll find even more videos.
---
The story of the Scrabbler who lives for the triple triple.
---