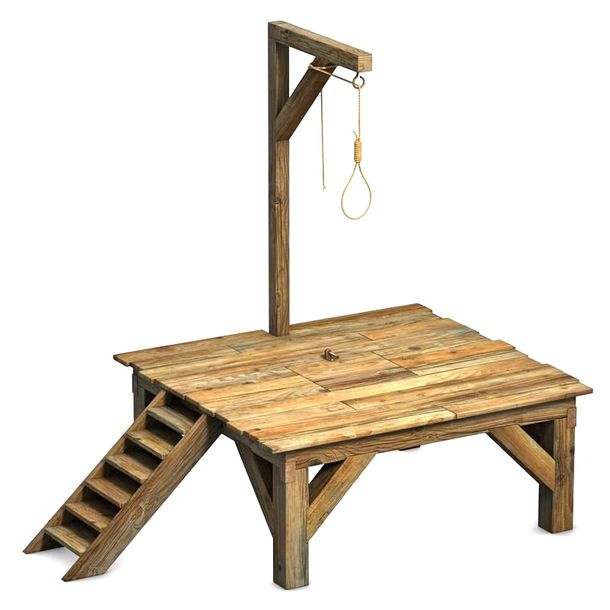 Hangman (a.k.a. Gallows) is a very popular paper and pencil game for two or more players.
It seems the origins of the game is not clear. Tony Augarde notes that the game may have emerged in the Victorian times. According to some sources on the Internet the game was being played in 17th Century Europe. There are even stories claiming that criminals sentenced to death by hanging could demand the "Rite of Words and Life." According to the rite, the criminal would was strung up over a five legged stand. The Executioner would pick a five-letter word, marking correctly guessed letters on the dashes of a board. At every incorrect guess the executioner would use a sledgehammer or axe to knock away a single leg of the stand. Five wrong guesses, thus, meant that the criminal was hanged. If the entire word was filled in correctly or guessed, the condemned would be set free from that sentence and not tried again on that crime. The irony was that almost all of those criminals were illiterate.
In modern times we see that the culture industry, not surprisingly, created its own ways of acclaiming the game. The TV show Wheel of Fortune based on the game has been broadcast worldwide starting from 1960s.
And, for the sake of completeness, here is the gameplay as described in Oxford A to Z of Word Games:
OBJECT: To guess a word, one letter at a time, before one uses up one's chances and is 'hanged'.
PROCEDURE: One of the two players thinks of a word or short phrase, and draws dashes on a piece of paper for each letter it contains. The other player then guesses letters, one at a time. If the guessed letter is in the word, the first player writes it in the appropriate space or spaces; if that letter is not in the word, the first player starts to draw a gallows, which is added to every time a wrong letter is guessed [as shown below].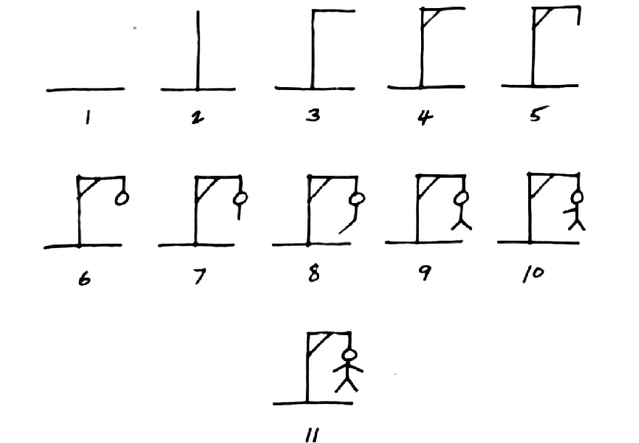 If the word is not guessed before the gallows is completed (with a matchstick figure hanging from it), the guesser loses the round.
If more than two people are playing, they guess letters in succession.
The gallows is usually completed after eleven incorrect guesses.
In some versions of the game, the gallows is built more quickly (omitting the base and the matchstick figure's arms) or more slowly (with more component parts). Players should agree beforehand on how the gallows is to be constructed.
If you want to play Hangman right away but happen not to have anyone around to play with, a well designed online version of the game is available here.